Tennis
The Grafton boasts 8 well-maintained tennis courts — 4 all weather and 4 artificial clay.
All of the tennis courts are floodlit allowing play up to 10pm every evening.
We run social sessions Wednesdays from 18:00, Fridays from 10:00 and Sundays from 14:00 (13:00 in winter)
There are 4 Men's, 3 Ladies, Ladies and Men's Midweek Daytime and 2 Summer Mixed teams competing in the Surrey County Leagues. Practice sessions are held Monday and Tuesday.
3 all day doubles tournaments in April (American), June (Grafton Cup) and September (Fox Trophy, named after our four legged friends!)
Singles box leagues: 6 per league and all play all over 8 weeks; ongoing all year.
Five professional coaches, see below for details.
The online Members' booking system allows 90 mins weekdays 19:00-22:00 and 120 mins all other times, bookable 14 days in advance.
Tennis guests can play in off-peak hours only, i.e. up to 4pm weekdays and after 4pm at weekends.  All guests must sign in and provide contact details for track and trace purposes, and pay the £5 guest fee before play commences.
Extensive juniors section and coaching.
We compete in the Millennium Cup, a local tournament aimed at intermediate level players.
Summer Championships and Winter Mixed tournaments.
Tennis Racquet re-stringing services are available over the bar.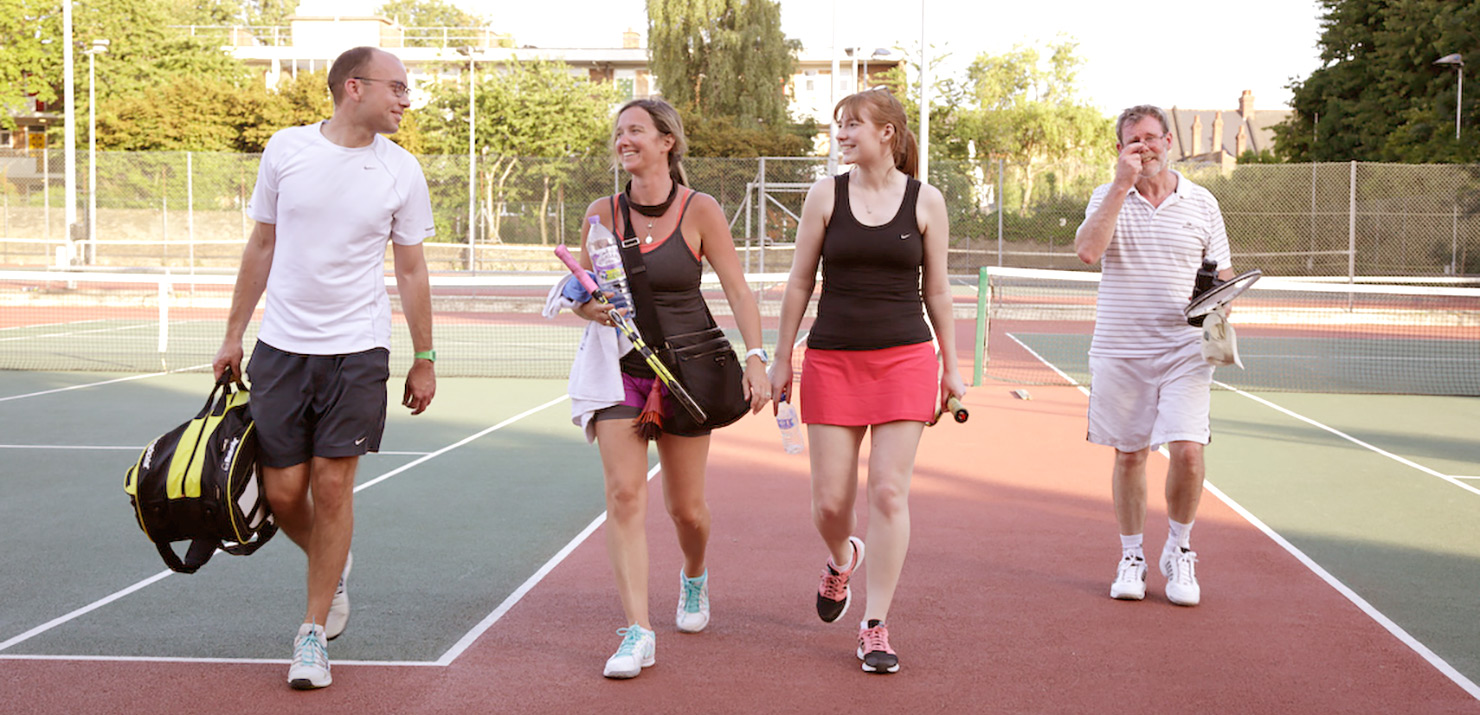 Tennis Coaching
JUNIOR & ADULT CLASSES 2020
EASTER TENNIS CAMP
Monday 6th April-Thursday 9th April 2020
Tuesday 14th April-Friday 17th April 2020
10am-2.30pm £30per day/£100per week
5-7yrs 10am-12pm only
For bookings email gary.sports.walker@gmail.com
Junior Classes
Tuesday 4pm-5pm 5-10yrs old £7 per session
Thursday 4pm-5pm 8plus intermediate level only
Academy Tennis 10plus on Everyday Monday-Friday 5-6.30pm
Above course you will have to have trial session.
Grafton Tennis Academy
This is for the more serious junior players who want to take their tennis to another level. Opportunity for juniors to train upto 5 times a week. Contact Gary Walker for more details or visit: https://www.graftontennisacademy.com/
Adult Courses
Cardio Tennis Wednesday 11am-12pm £8 member £10 non members Matt 07765697858
Social Adult Coaching Friday 9.30am-11am £8 member £10 non member Alessandro 07817936899
Thursday Evenings set courses contact Matt 07765697858
Saturday 9am-10am Intermediate Level contact Steve 07787331381
Tennis Coaches
Gary Walker ( 07979203517 ) – Head Coach
Gary has been coaching since 1990, working in various parts of London. He has spent the last 20 years based in South London where he has been Tennis Development Officer for both Lambeth and Wandsworth. Gary has also been Head Coach at several clubs with a strong focus on junior development. He has coached players with varying abilities and experience, from mini-red all the way to ITF level. Gary is involved with the day-to-day coaching at the academy as well as overseeing competition schedules for all players. He also travels, both with players for competition and training camps as well as seeing other academies in different countries to further his coaching knowledge.
Steve Dean ( 07787331381 ) – Assistant Head Coach
Steve is a licensed LTA Level 3 coach, formerly running the tennis programme at Tooting Bec Common.  He coaches all age groups, from tiny tots through to adult team players.    He delivers our weekend beginner group lessons and runs weekday team training sessions.
Alex Walker (Not available at present due to lack of capacity for new clients)
Alex was a top national junior player in the UK and represented Great Britain at U16 level. At U18 level he achieved an ITF World Ranking of 800 and also played in senior level ITF Futures events. He went on to represent Bath University in the BUSA Tennis league whilst he studied for his degree. Alex has a strong focus on the high performance players in the academy and works with our players everyday on all aspects of their game. Like Gary, Alex is constantly updating his coaching knowledge by learning how top players in different countries are training.
Alessandro Sciaraffa  (07817 936899)
Alessandro's tennis training has been extensive, from coaching alongside a number of grand-slam champions to travelling the world to perfect and develop his craft, mainly based and trained in the UK. During his time at Sanchez-Casal in Florida, Alessandro was the Head Coach of Mini-Tennis and implemented a holistic training programme so that players could compete Internationally and Nationally. Alessandro has been a touring coach on the Junior, Mens & Womens ITF circuit in Spain and Florida, supporting Top 100 Junior Boys and Girls with full strength, conditioning and mental training programmes. Alessandro believes in showing his players their potential, training them to achieve their goals and to enjoy their time on court. Alessandro trains all abilities from juniors to adults and can offer tailored training programmes for each player. You can read more on his website at https://clubspark.lta.org.uk/ASTENNISACADEMY
Matt Mauduit (07765 697858)
Matt is an LTA Level 3 Coach and has been Coaching for 10 years. Prior to joining the team at Grafton, Matt held coaching positions at 5-star resorts abroad including Forte Village in Sardinia and Pine Cliffs in Portugal. Matt then worked for the Annabel Croft Tennis Academy based at the National Tennis Centre in Roehampton. Matt offers private lessons and group lessons to all ages and abilities as well as running the cardio tennis session. For his group lessons or Cardio Tennis, please visit his website to book at https://www.mattmsports.co.uk/
Tennis Teams
Grafton has a number of teams actively playing in local tournaments including Surrey Summer and Winter doubles leagues and Team Tennis leagues (singles and doubles). If you are interested in representing Grafton, please contact Murray Sutton (murraycsutton@gmail.com) or Morvern Scott (morvernscott@me.com).
Tennis Prices
Tennis membership is £265 per year and there is currently no joining fee. Students and Juniors pay lower rates of £100 and £50 respectively. There are reduced off-peak rates (weekdays before 4pm and weekends after 4pm), discounted rates for couples/families and also combined Squash and Tennis options; full details can be seen on our membership page via the button below. The tennis court lights cost £5 for a 45 minutes session if you want to play in the evenings. You can join us or contact us by clicking on the buttons below, or come along to one of our social sessions to try us out first — £5 per session for non-members, £2-50 for members.
LTA Membership
Tennis membership includes an affiliation fee for the Lawn Tennis Association of British Tennis. Membership entitles you to be included in the draw for our allocation of Wimbledon tickets every year as well as many other benefits. If you are already a British Tennis Member then you will need to switch your club to Grafton. Further details about the LTA are available at https://www.lta.org.uk/