At Grafton, our Qualified and Accredited coaches deliver a range of both private lessons and group sessions for both Juniors and Adults. Coaching is not only great for developing your technique and tactics but also a great way to meet new players of a similar level.
Holiday Camps Summer 2021!
Our Holiday Camps are now online and open for booking via the following link: https://clubspark.lta.org.uk/MattMSportsCoaching/Coaching/Camps
Dates: Monday to Friday from 12th July 2021 to 13th August 2021
5-7yrs 10am-12pm, Day rate: £20, Full week: £90
8+yrs 10am-3pm, Day rate: £40, Full week: £185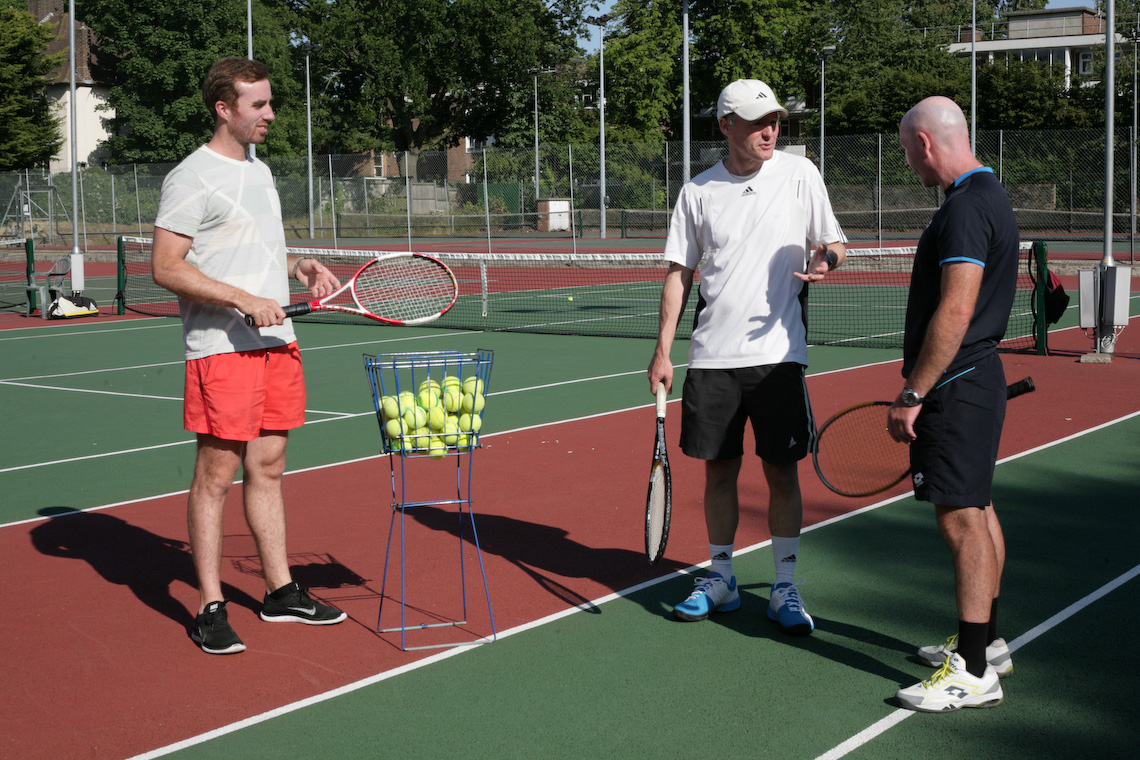 Junior classes (Autumn Term 2021)
Our coaching team pride themselves on running a coaching pathway for Juniors from complete beginner level right through to regional and National competition level. This is down to the vast wealth of experience our coaches have in both the development side of the game and high performance.
Details for the upcoming autumn term will be coming soon.
Grafton Tennis Academy
The Grafton Tennis Academy is designed for the more serious junior players who want to take their tennis to another level. It provides the opportunity for juniors to train up to 5 times a week. Please contact Alex Walker for more details or visit: graftontennisacademy.com/
Adult Classes

Cardio Tennis:
Cardio Tennis is a fun, social fitness session, set on a tennis court for all ages and abilities. The emphasis is on the fitness aspect with music being played on the court to keep everyone motivated! There is a mixture of drills to begin with then moving to fun games to finish. Come and give it a go!
When? Wednesdays 12.00-1.00pm and Fridays 9.00-10.00am
Cost: £8
Book Online here!
Social Group Coaching:
This session is a rolling pay and play class where all levels are welcome. If you know how to hit the ball but want to build up the confidence to play in the Social Tennis sessions then this is the class for you.
When? Fridays at 10.00-11.00pm (Not During School Holidays)
Cost: Members: £8 Non-members: £10
Contact Alessandro to book on 07817936899
Beginner Course: (This Class is currently full)
If you have never played tennis before and would like to learn the game from scratch, this is the class for you. The course consists of 6 classes which include the basics of the main strokes, learning the rules, how to keep score and some basic tactics to play the game.
When? Thursday Evening, Time tbc
Cost: £60
Contact Matt for more info and book via his website www.mattmsports.co.uk 
Improver Course: (This Class is currently full)

This is the direct follow on from the beginner course but also open to players with limited playing experience who would like to learn more on the tactics for singles and doubles play. We also begin to look at the more specialist shots such as lobs, smashes and drop shots.
When? Thursday Evening, Time tbc
Cost: £60
Contact Matt for more info and book via his website www.mattmsports.co.uk
Intermediate Course:

This is a rolling pay and play class aimed at players who are able to rally and serve comfortably. While there may be some focus on technique, the main theme of these sessions will be implementing tactics in singles and doubles play.
When? Saturdays 9.00-10.00am
Cost: Members £8 Non members: £10
For more info and to book contact Steve on 07787331381
Private Lessons:
Our coaches are also available for private lessons. Below is a list of our coaches who can be contacted directly to discuss your level and an appropriate plan of action for you.
Cost: Members: £35ph*
Non-members: £40ph*

*If played under floodlights there will be an additional £6.50ph 
Tennis coaches
Steve Dean – Club Coach
07787331381

Steve is a licensed LTA Level 3 coach, formerly running the tennis programme at Tooting Bec Common.  He coaches all age groups, from tiny tots through to adult team players.    He delivers our weekend beginner group lessons and runs weekday team training sessions.
Alex Walker – Club Coach
(Not available at present due to lack of capacity for new clients)
Alex was a top national junior player in the UK and represented Great Britain at U16 level. At U18 level he achieved an ITF World Ranking of 800 and also played in senior level ITF Futures events. He went on to represent Bath University in the BUSA Tennis league whilst he studied for his degree. Alex has a strong focus on the high performance players in the academy and works with our players everyday on all aspects of their game. Alex is constantly updating his coaching knowledge by learning how top players in different countries are training.
Crystal Sutar – Club Coach
07958590763

Crystal started playing tennis at the age of 7. She fell in love with the game and it became clear she had genuine talent. Having spent time abroad training, Crystal has competed at ITF level events. Today she is a  level 1 coach and works alongside Alex and Matt to further develop as a coach, while still keeping up with her training as a competitor herself. Crystal provides group sessions for juniors of all abilities and private lessons to all club players.
Matt Mauduit – Club Coach
07765697858
Matt is an LTA Level 3 Coach and has been coaching for 10 years. Prior to joining the team at Grafton, Matt held coaching positions at 5-star resorts abroad including Forte Village in Sardinia and Pine Cliffs in Portugal. Matt then worked for the Annabel Croft Tennis Academy based at the National Tennis Centre in Roehampton. Matt offers private lessons and group lessons to all ages and abilities as well as running the cardio tennis classes. For his group lessons or Cardio Tennis, please visit his website to book at https://www.mattmsports.co.uk/